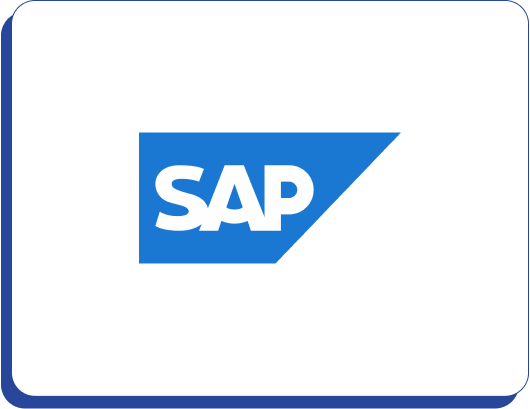 At Adamas Tech Consulting, we specialize in SAP solutions and consulting services that enable businesses to drive their digital transformation journeys. With our deep expertise in SAP Technologies, we help organizations harness the power of SAP's robust suite of solutions to optimize operations, enhance productivity, and achieve sustainable growth.
SAP IMPLEMENTATION
& UPGRADES
We assist businesses in implementing SAP systems or upgrading to the latest versions, ensuring a seamless transition and minimal disruption to operations.
SAP CUSTOMIZATION
& INTEGRATION
Our team of experts tailor SAP solutions to meet unique business requirements and seamlessly integrate them with existing systems and processes.
SAP APPLICATION
DEVELOPMENT
Automate tasks, eliminate paperwork, and optimize processes, resulting in improved efficiency and cost savings.
SAP ANALYTICS
& REPORTING
Gain real-time insights through data analytics empowering informed decision-making and agile responsiveness.
BENEFITS OF SAP SOLUTIONS FOR YOUR BUSINESS
STREAMLINE
OPERATIONS
SAP solutions automate and streamline business processes, reducing manual effort, improving efficiency, and minimizing errors.
DATA-DRIVEN INSIGHTS
SAP analytics tools provide powerful insights into business performance, enabling informed decision-making and proactive planning.
ENHANCED PRODUCTIVITY
Strategic guidance to help you leverage mobility for business growth, including market analysis and feature planning.
SCALABILITY
& FLEXIBILITY
SAP solutions are designed to scale with your business, accommodating growth and adapt to evolving needs, ensuring long-term viability.
COMPETITIVE
ADVANTAGE
By leveraging SAP's industry-leading solutions, businesses gain a competitive edge by optimizing operations, improving customer experiences, and driving innovation.
Companies using SAP technologies experienced an average of 23% reduction in overall IT costs and a 29% increase in employee productivity.
SAP HANA, the in-memory database platform, has enabled businesses to process data up to 100,000 times faster, leading to a
50% reduction
in data storage costs and a 60% increase in data processing speed.
3. The implementation of SAP S/4HANA has resulted in a 25% decrease in time required for financial closing processes and a 15% improvement in on-time delivery performance for businesses.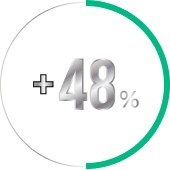 Businesses leveraging SAP Analytics Cloud witnessed an average ROI of 260% within three years of implementation, with an 82% reduction in reporting costs and a 48% increase in data analysis speed.
72% of organizations reported improved decision-making capabilities after implementing SAP Analytics solutions. (Source: ASUG)

As a trusted SAP solutions and consulting partner, Adamas Tech Consulting is committed to helping businesses unleash the full potential of SAP technologies. Whether you are planning a new SAP implementation, seeking to optimize existing systems, or require ongoing support and maintenance, we have the expertise and experience to deliver exceptional results. Contact us today to embark on your SAP-powered digital transformation journey and drive sustainable growth for your business.
LET'S TALK