A one stop solution for your
School Management
BuzzEd is a powerful and intelligent solution for schools to ensure the safety oftheir students & ascertain their parents when their children travel to and from theschool. The system provides real-time tracking of buses, notifies on bus arrivaland departure status & even updates the bus is approaching or running late. Theapp is made to be user-friendly, so parents can easily keep track of their kids'movements anytime and anywhere during the day
Route Management

BuzzED will enable your schools to efficiently manage and optimize the Transportation Routes, ensuring timely and safe transport for students.
Real-Time Bus Tracking

Buzzed will help you to track the location of Driver, Attendant and Students at real-time, ensuring safe transport for the students.
Trends, Reports & Dashboards

Buzzed will also provide your operation team with comprehensive insights into Transportation Operations, Fleet Utilization, Route Optimization, and Student Safety to improve decision-making and enhance overall efficiency.
Real-Time Tracking

Parents can track the real-time location of their child's school bus, receive alerts about bus Arrival / Departure, and monitor their child's attendance, all from their smartphone.
One Platform for All Children

Parents will be able track all of their children across multiple routes and school through a single platform, providing them with greater convenience and peace of mind.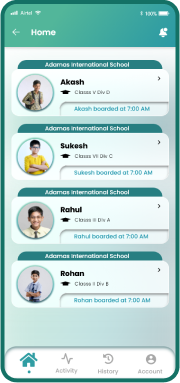 Alerts & Notifications

BuzzED sends real-time alerts and notifications to parents and administrators for student attendance, route delays, or emergency situations, ensuring timely communication and action.
A comprehensive solution combining to help alleviate pain points for Guardians, Attendants and the School Management with following 4 features –
REAL TIME TRACKING OF THE SCHOOL BUS
GPS Enabled, Cloud Based tracking system that allows for real-time tracking of the school bus and provides live updates on the current location of the School vehicle.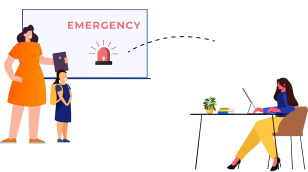 It provides an efficient way to monitor and manage any emergency situation, and streamlines communication between Bus Operators, School Staff and Parents.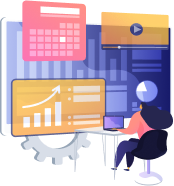 The app provides in-depth Analytical Reports about the performance of school Buses, Drivers, and Students. It also streamlines administrative process and operational efficiency of the school.
Compliance with Government Regulations for student safety & accountability.
Education Industry Domain Expertise

Multiple educational solutions built in collaboration with many Institutions.

Easy Onboarding and Implementation

Initial hand-holding support and continuous support mechanisms in place.

Best In Class Technology

Initial hand-holding support and continuous support mechanisms in place.